Supporting diversity management within organizations is the central core of 'Direction in Diversity' This is because the development and improvement of diversity management needs to be tailor-made. Esther Mollema assists and advises many profit and non-profit organizations around diversity management (including Nespresso, EY, ING, Lidl, Utrecht University, Wintershall, ABN AMRO Bank, Saint Gobain and Philips Lighting). Her sessions on Mindbugs, Gender Awareness and Female Leadership have become well known models in many organizations.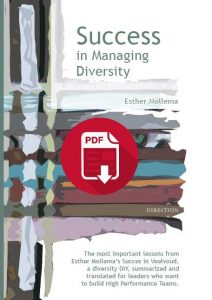 Esther: "I realized a few years ago, that if we continued along the same road, women would be faced with the same issues in their careers and personal lives over and over again. As a result, too few women can really grow in their careers and improve Organizations. Without more insight this issue will not be resolved during my working life. I cannot just accept this, I should do something about it.
As Director of Direction I have a lot of daily contact with decision makers in the Dutch business world. They are still predominantly male. They also agree with me that organizations benefit if the important decisions in companies are no longer only made by men. More and more studies show that shareholder values of companies increase as more women hold key positions."
Contact Esther Mollema for more information!